Speech telling remainers that vote to leave must not be betrayed branded 'hypocritical'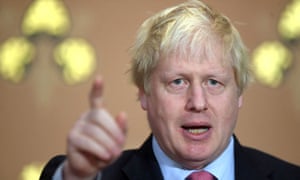 Boris Johnson will warn that the 17.4 million people who voted to leave the EU face a disastrous and irreversible betrayal if attempts to overturn the referendum vote succeed.
The foreign secretary will say "we cannot and will not let it happen" in a major speech on Wednesday marking the start of a series of interventions by cabinet ministers laying out the government's "road to Brexit".
The opening gambit from Johnson, who led the Vote Leave effort, has been billed as an attempt to reach out to remain voters, setting out the liberal argument for Brexit and why the decision should provide hope, not fear.
However, his comments about betrayal have already triggered a backlash with accusations of hypocrisy from MPs who claim that it was Johnson who first engaged in "disgraceful scaremongering" during the referendum campaign.
In the speech, Johnson will say: "I fear that some people are becoming ever more determined to stop Brexit, to reverse the referendum vote of 23 June 2016, and to frustrate the will of the people. I believe that would be a disastrous mistake that would lead to permanent and ineradicable feelings of betrayal. We cannot and will not let it happen."
However, he will acknowledge that leaving the EU will only be a success if the government reaches out to those who have anxieties about the decision. "I want to try today to anatomise at least some of those fears and to show to the best of my ability that they are unfounded, and that the very opposite is usually true: that Brexit is not grounds for fear but hope," he will add.
Johnson will claim that Brexit could open the door to an outward-facing, liberal and global Britain. However, he will claim that a major mistake of the past was for pro-EU voices to too often ignore those who opposed membership of the European bloc and he will say ministers must not repeat that.
"It is not good enough to say to remainers – you lost, get over it, because we must accept that many are actuated by entirely noble sentiments, a real sense of solidarity with our European neighbours and a desire for the UK to succeed."
The Labour peer, Andrew Adonis, said that Johnson was right that people were trying to stop Brexit, but it was because they believed it would be an economic disaster. "Johnson lied to the British people about Brexit and its benefits two years ago, including £350m a week for the NHS on the side of his bus," Lord Adonis told the Guardian.
"The feelings of betrayal are against him, Farage and Rees-Mogg – which is why the campaign for a referendum on his Brexit deal is gathering pace. The greatest national success now would be to stop Brexit, eject Johnson from office, and install a government determined to promote trade, prosperity and security with our European partners – and not undermine them, as he is doing."
Chuka Umunna, the Labour MP and leading supporter of Open Britain, also hit back, describing the foreign secretary as "totally unqualified to preach about the perils of fear and betrayal".
"He engaged in disgraceful scaremongering with his ridiculous assertion that Turkey was on the verge of joining the EU and he has already betrayed millions of people by going back on his pledge to secure £350m extra per week for the NHS. This is hypocrisy of the highest order," he said.
Johnson set out his arguments for why Brexit could be seen as a liberal endeavour in a recent Guardian interview in which he claimed that the EU was first and foremost a political project rather than being concerned with abandoning trade barriers.