By Pete Warner, BDN Staff •

Updated:
Related Stories
The University of Maine football team will try to go where no other Black Bears squad has been before on Friday night when it takes on Weber State in a Football Championship Subdivision national quarterfinal at Stewart Stadium. Stay tuned here for up-to-the-minute updates from the game, which kicks off at 8 p.m.
Timeout UMaine. 1:39 left
Edwards runs, but can't find any running room
Weber State burns its last timeout
Fitzpatrick around the end, one yard. Third-and-10
UMaine is at the Weber State 30-yard line
The Black Bears need one timeout to put this game away — finally
Fitzpatrick runs straight ahead, no gain. Timeout Weber
Kayon Whitaker with the deflection and Grayer alterly grabs it. 2:40 to play
That ought to just about do it — but no guarantees
Constantine throws, it's tipped and intercepted by Grayer. 
They'd better hope the defense is up to the challenge one more time
Stupid penalties have been an issue for Umaine all season
The Wildcats have two timeouts
So the lack of discipline by Jefferson, spinning the ball on the ground after scoring, opens the door for Weber State to stay within striking distance
Thus, it's only a one-score game. UMaine leads 20-12 with 2:56 left.
The Weber State coach made sure to have the penalty enforced on the PAT and it pays off.
The kick from 35 yards out is hooked wide left
Kenny Doak's PAT is delayed by a clarification of the unsportsmanlike conduct penalty on Jefferson
Jefferson followed Belcher around the corner and bounced off a defender before racing to the end zone
Flags fly in the end zone
Jefferson eludes a tackle at the corner and races into the end zone. UMaine makes it a two-score game
Fitzpatrick can only get one yard in the middle
Defensive holding gives UMaine 10 yards and a critical first down. 3:46 to play
UMaine may catch a break here
A pass to Belcher produces a VERY late flag from the secondary
UMaine needs to bleed this play clock every play
Jefferson with a catch, a short pickup. Third down (again)
Jefferson can't find a yard on first down
Constantine is intercepted by Jeff DeVaughn, his second of the night, and the Black Bears have a huge opportunity to ice this thing
Ball will be pushed back to the UMaine 47
Pass is incomplete. Holding on the offense
Constantine throws low near the sideline and it appears to have been caught
Oh, unsportsmanlike conduct on Richard Carr gives Weber a first down and 15 big yards.
Fourth down. But a flag downfield
Constantine is sacked and loses the handle. Deshawn Stevens nearly gets the fumble.
Biggest play of the game to date
Constantine can't find Malone in the left flat. Third down 
Davis finds two yards up the middle
Constantine to Denby on the sideline, another first down. Weber State is rolling
A nifty throw from Constantine to Shaheed on a slant, first down
Shaheed with an eight-yard grab. Third and 2
Demby catches a short pass from Constantine, but Sheffield will have none of it. no gain
UMaine's inability to do anything on offense in the second half — after the Edwards TD reception — may well cost it the game
Another absolute dog of a kick rolls dead at the Weber State 29. 7:43 to go .. back to defense for the Black Bears
Ferguson's pass is broken up by Parker Preator. A terrific play that cost Umaine a first down
Docos pulls back early, costs Umaine five yards. Now third-and-15
The flea-flicker, Ferguson to Blair, is long and incomplete
The Bears could ice this by eating some clock and getting a TD
Ball at midfield. Next pass is out of bounds
Fergson throws into traffic to Old Town's Dre Miller for a nice 23-yard gain
Patterson just ripped it out of Cooley's hands
Constantine is intercepted by Manny Patterson, who has been awesome covering receivers (again) tonight
Garrett goes left, goes nowhere
UMaine could use a turnover to turn the tide
UMaine's defense continues to shoulder the load in this game. Biggest game in program history, a berth in the national semifinals on the line
UMaine still holding on to a 14-12 lead. 9:35 remaining
UMaine can't get a first down. Deoul's punt is returned to the Black Bears 45.
Jefferson goes outside for nine yards to the 15
Wright lets the pull roll to the 6-yard line. The 44-yard kick puts UMaine back in a hole needed to eat some clock and put some points on the board
Black Bears hold one more time
Constantine has time, but no open man, third-down play incomplete
Constantine under pressure, throws low, nearly intercepted
Constantine tries to force it into coverage, incomplete
The Wildcats are in good shape at their own 40. 12:09 left, UMaine leads 14-12. Ball is back in the UMaine defense's court
Shaheed muffs the punt return, but gets it back
Deoul needs a good punt here
UMaine just can't put anything together on offense
Ferguson is sacked for the first time tonight by Adam Rodriguez — with a three-man rush
A screen to Micah Wright does not materialize. Third down
Belcher, a short grab, a loss of one
Time for the Black Bears to pull a rabbit out of the hat with some sort of trick play
The punt takes a good bounce and goes 47 yards to the UMaine 33. 
Micah Wright back to receive
Sheffield breaks in and sacks Constantine to force a Weber State punt
Constantine throws incomplete as Shaheed is wrecked by DeVaughn
The Black Bears have surrendered 185 passing yards but have given up only 12 on the ground
UMaine has only eight first downs, but has outgained Weber State 217-197.
Sheffield swallows up Garrett as the quarter ends. Black Bears still on top 14-12
Shaheed is buried after a 39-yard punt by Derek Deoul. Weber State back on the attack trailing 14-12
13 seconds left in the third quarter
Ferguson's next pass is at Edwards' feet. Another punt forthcoming
Ineligible receiver downfield on Belcher. The play is wiped out
Belcher makes a juggling reception over the middle on a throw from Ferguson, but there's a flag
Ferguson throws to Wright for six yards. Third and 1
Sorry, correction: Score is 14-12 UMaine
Jefferson finds a brief opening and gains 3 yards
Edwards kneels in the end zone, giving UMaine the ball at the 25 to start its next possession. We still have 16:55 left
It's imperative that UMaine move the football on offense on its next possession. They have been stagnant for a long time
Tuttle's PAT is NO GOOD, wide right! UMaine clings to a 14-13 lead with 1:55 left in the quarter. Tuttle's first miss of the season
Weber lines up in a weird formation, but then lines up to kick
And it's ruled a touchdown. 14-12, pending a conversion
UMaine's secondary is getting burned for some big plays tonight, despite the unit's efforts 90 percent of the time
This game may set a record for video reviews
That was an absolute prayer by Constantine, but Cooley went up and got it, at least temporarily
It looks on replay as though Cooley made the catch and had it taken away. 
Constantine avoids a sack, but throws to the end zone. Jeff DeVaughn wrestles the ball away from the receiver. It's an interception — for the momentt
Fourth-and-12 at the UMaine 33
Constantine's third-down pass goes long and out of bounds
A toss to a wideout out of the wildcat, but he goes nowhere
Garrett runs, meets Lowe, loses a yard
Constantine took a shot on the play, but stood in there 
Constantine again finds Denby downfield behind Richard Carr. It's a 41-yard gain
Constantine has Cooley open but no catch, a little too hot, high and behind him
This one is a dog, shanked out of bounds at the Weber State 28-yard line. Bad time for a 19-yard punt by Deoul — not that there is often a good time for one of those
4:23 still left in the third quarter
Ferguson can't find a receiver on a throw down the field. Fourth down — again
Ferguson throws underneath to Belcher, but he's two yards shy of a first down
Joe Fitzpatrick pounds his way into the middle and picks up 3 to the UMaine 48
Earnest Edwards on the jet sweep for a 10-yard pickup for uMaine
Both QBs having their share of issues against two strong defenses
Constantine under pressure and is intercepted by Jeff DeVaughn in the middle. Black Bears get the ball back
Constantine throws one to the left, but nobody's there. Third down
Constantine has a receiver, Denby, but he can't come up with it near the goal line
Shaheed fields at the UMaine 45 and Weber State again will have great field position to start a possession. Black Bears clinging to a 14-6 lead
Ferguson makes a terrible throw toward a receiver. Bears have to punt again deep in their own territory
Ferguson dumps one to Wright for about 12 yards, but it's still third-and-11
Devin Young flirts with disaster on an end-around, but gets it back to the 2-yard line
Ramon Jefferson burst through the right side, but a flag flies. A holding call makes it 1st and 20 from the 4
Micah Wright makes the fair catch at the 13. Lousy field position, but UMaine offense with another chance to put a drive together and extend the 14-6 lead
Davis catches a quick pass, but Jaron Grayer snuffs it out. Weber will have to punt
Then an illegal substitution costs Weber 5 yards. With all that time to get ready, too
The targeting foul is revoked. They got it right.
What is going on with this review. TV shows it clearly
Love to see the refs get the call right, but this is taking way too long!
It's a miracle Cooley held onto that ball in the first place
Stevens has been an absolute force for this defense
It was a violent hit, but not an illegal one
We're still only 5:15 into the second half. A long way to go
Simple matter of a size mismatch of a backer on a wideout
Replay shows a perfectly good and hard hit by Deshawn Stevens. This call could be overturned since it is being reviewed, since targeting indicates a hit to the head. It was not
Constantine throws to Cooley for about eight yards, but a targeting penalty will cost the Bears 15 yards. 
Katley Joseph was beat on that play and the receiver couldn't get it
Joseph and Darrius Hart both get a hand on a Constantine pass, but can't come up with it
Pressure back on the defense
Hmm, doesn't look like that ball was secured by the defensive player before it was pulled from his hands
Ferguson has been shaky all night throwing into coverage. Not sure whether it's an injury issue or big-game jitters, but he has not been sharp for the most part
All kinds of time left and the momentum is turning. LeGrand Toia with the pick at the Weber State 47-yard line
Ferguson throws into a crowd over the middle and is intercepted
The kickoff goes out of bounds, which gives UMaine the ball at the 35-yard line
Black Bears allowed one big pass play that led to that kick
Trey Tuttle from 45 yards and it's good. Weber State cuts the UMaine lead to 14-6 at 10:12 of the period
Constantine is hit while throwing, Sheffield on the play. The holding call is declined and Weber State will punt
Still 10:30-plus left in the third quarter
Garrett is dropped in his tracks by Deshawn Stevens
Garrett takes a direct snap and runs middle, but only about 2 yards on the pickup
That's a 31-yard play — the kind UMaine could not afford to give up 
Constantine throws long for Demby as Jeff DeVaughn gets beat pretty badly. 
Third-and-10, that is. UMaine can't let anything big happen right here
So it will be third down for Weber State
UMaine players ran it back as though they thought it was not a fumble
Call is still being reviewed
That's going to get reversed
Cooley didn't appear to ever have possession. It went to the ground
A pass is complete, but Katley Joseph rips it out and Sterling Sheffield runs it all the way for a touchdown!
Weber State still unable to run the ball against the Bears
Weber State, perhaps sensing the importance of this drive,calls a quick timeout
Constantine looks to throw deep but Manny Patterson is right with Rashid Shaheed 
There was some hand fighting going on
Katley Joseph is going to get called for pass interference on a throw over the middle
Davis can't find much room, maybe picked up a yard. Taji Lowe plugs the hole
Davis runs left, picks up 4. Katley Joseph among the tacklers
The kickoff is misplayed, but goes for touchback
A simple little play, but the corner overplayed the throw and tried to knock it away, but the throw was on the money and Edwards had no further resistance
The play covers 67 yards and Doak adds the PAT to make it 14-3 UMaine
A quick toss to Earnest Edwards, a missed tackle and he's gone for a touchdown.
Jefferson goes around the right side and picks up about six. third and 2
Ferguson dumps off a short toss to Joe Fitzpatrick for two yards
Touchback on the kickoff gives the Black Bears the ball at the 25-yard line
UMaine is 6-1 this season when leading at the half
UMaine posts seven tackles for a loss of yardage in the first half
The Black Bears will get the ball to star the second half after deferring upon winning the coin toss.
An error in an earlier post in tonight's live blog:.James Madison of the CAA joins UMaine as league representatives in the FCS quarterfinals
Darryl Denby (40 yards) and Devon Cooley (27) each have two receptions for the Wildcats
Weber State QB Jake Constantine is 9-for-18 with 77 yards, but 34 yards came on one play. UMaine's secondary, led by Manny Patterson, has been locked down
Tight end Drew Becher has three catches for 30 yards
Ramon Jefferson has picked up 28 yards on nine carries to lead the UMaine run attack. Ferguson is 7-for-15 (incuding an 0-for-6 drought mixed in) for 54 yards and the TD pass to Jaquan Blair.
Not much offense in the first half. UMaine outgained Weber State 107-89 overall, going 2-for-7 on third down. The Wildcats were 2-for-9
UMaine runs out the clock to end the half and leads this FCS national quarterfinal 7-3. Defense, defense, defense. 
Wright makes another fair catch and UMaine takes over up 7-3 with the half close to and end
Constantine throws one into the bench. Weber State will punt. 1:04 left in the half
Constantine throws over the middle incomplete. Richard Carr on the coverage
Whitaker takes an offside penalty, now second-and-4
Wildcats are in hurry-up mode
Shaheed with a grab from Constantine for a short gain
Then Constantine finds Cooley for a 14-yard throw
UMaine has held Weber to 74 total yards thus far
Shaheed takes the kick at the 4 and gets up near the 20
Drive is 9 plays, 46 yards
Kenny Doak will line up for the PAT and it's good, UMaine 7, Weber State 3 with 2:05 remaining in the first half. 
UMaine had been 0-for-5 on third down prior to that possession
Looks good on the TV replay!
Ferguson finds Jaquan Blair on a quick hook on the left side and Blair lunges across the goal line for a touchdown
Not much for Jefferson up the middle. Now third-and-goal from the 8
Ferguson under pressure throws it up for grabs and Andre Miller again knocks the ball away from Parker Preator, who had a pick in his sights
Jefferson picks up the first down with two hard-earned yards up the gut
Jefferson spins through a tackle and winds down to the 11. Second and 1
Young on a jet sweep to the short side of the field nets 13 yards
Ferguson hits Devin Young slicing through the middle for the first down
Ferguson to Belcher on the left side for a gain of six. Third-and-7
Flags fly. Offside on the offense against Belcher
Jefferson finds tough sledding off the right side and gains two yards
The punt is downed at the Weber State 47, so UMaine has another opportunity to get something going on offense. 27 rushing yards thus far while Ferguson is 4-for-11
Garrett pushes up the middle for four yards, but Weber State will have to punt … Sheffield is dinged up
Weber State's starting left guard, Mo Cannon, is helped off with a leg injury
Garrett is dropped in the backfield by Sterling Sheffield. Now third-and-14. First time we've mentioned Sheffield tonight
A short pass play picks up nothing as Katley Joseph makes the play
Shaheed fields the punt at the 14-yard line and Weber State brings the offense back on the field. Wildcats lead UMaine 3-0, 8:38 left in the half
Ferguson buries one in the ground. He has not been sharp. UMaine must punt again after squandering good field position
Illegal substitution further hampers the Bears
A screen left to Edwards goes nowhere as Blair can't make the block
A reverse to Micah Wright goes for only 3 yards
Ferguson finds Belcher on a drag across the middle for 14 yards
UMaine 15 plays, 43 yards so far
Weber State still on top 3-zip
Micah Wright fields it cleanly and UMaine is slowly turning the field and will take over at its own 47
Davis runs it for three yards, but UMaine forces the punt
Delay of game on Weber State. Now third-and-15
Constantine lofts up a pass that is broken up by Katley Joseph
Josh Davis is roped down by Kayon Whitaker for no gain
Shaheed calls for a fair catch at the Weber State 19. 43 yards on the punt by Deoul, who has been excellent tonight thus far
UMaine will punt from its 39
Ferguson is flushed from the pocket but slides down a yard short of the first down
Ferguson lofts one up and it's picked off, but an offsides penalty negates the play
UMaine takes a timeout. Weber State still leading 3-0, 13:20 left in the half
Ferguson's pass to Edwards is incomplete, although he took two hands to the back before the ball was there
Ramon Jefferson picks up about three yards on first down and 15
Black Bears haven't been able to establish the run. That is a big key. If they don't, the Wildcats are going to pin their ears back and go after Ferguson
Weber State takes its second charged timeout leading 3-0 with 14:03 left in the first half
Ineligible receiver downfield is a 5-yard penalty, repeat first down
Wildcats dial up pressure like UMaine likes to do
Ferguson under a heavy rush throws it to nobody on the right side. This could be grounding
Ferguson breaks a string of six straight incompletions, finds Drew Belcher for a first down
UMaine will initiate the possession from its 19
Edwards fields a line drive at the 6 and can't get any room to run
Let's see if Weber kicks it to Earnest Edwards
Perhaps now, with a decent return, the Black Bears can get some respectable field position
And it's good. Weber State 3, UMaine 0 with 11 seconds gone in the second quarter.
A 37-yard field goal try by Trey Tuttle
Constantine under duress throws to no one, Kayon Whitaker in his face. Fourth down
Third and 12 at the Umaine 20
Total offense, 101 yards combined, only 24 by the Bears
Black Bears with only one first down thus far. Weber State has six
And that will do it for the first quarter. No score between UMaine and Weber State in their FCS quarterfinal, but the Wildcats are knocking on the door
Garrett is wrapped up by Alejandro Oregon for a loss of one
Constantine throws to Denby, but it's not catchable. Second and 10
Garrett bursts up the middle through a big hole, 14 yards for a first down
Hands to the face on Skylar Bowman will cost the Bears 15 yards. Weber State now at the UMaine 33
Garrett runs into a crowd in the middle, maybe good for three yards, but there's a flag
This punt isn't quite as good, 36 yards, and Shaheed calls for a fair catch at the UMaine 48. 1:33 left in the quarter
Jefferson finds some room off right tackle but picks up only seven yards. UMaine must punt again
Ferguson throws into double coverage, but Old Town's Andre Miller basically makes a defensive play by knocking it away
This Weber defensive front appears stout
Patterson up the middle finds nowhere to run
Starting field position so far for UMaine: UM 12, UM 12, UM 5
Lloyd hits another beauty, a 46-yarder that does out near the UMaine 5-yard line
Constantine is shaken up a bit
Constantine's pass under duress falls incomplete. Weber will punt, but the Black Bears could get hemmed in deep once again
Garrett up the middle, but Connor Walsh drops him quickly
A pass lofted to Shaheed amidst a rush, but Lowe makes the play
Weber State ball, 4:48 left first quarter, at midfield
It's a good thing, because his two excellent punts have helped UMaine out of a hole, at least temporarily
Shaheed takes it at his 35 and returns to near midfield. A 51-yard boot by Deoul, who seems to be enjoying the thinner air at 4,000 feet!
Ferguson with a low throw intended for Edwards, who wasn't open. Weber keeping the pressure on
Wow. Adam Rodriguez nearly picks off Ferguson amidst a pass rush. Third and 7
Edwards finds little room but gains two yards on first down
A nice punt is downed at the 12-yard line. UMaine again facing tough field position. No score, 5:50 left first quarter
Constantine's pass goes off the hands of Allen and Weber State will punt. 
Wildcats face third-and-14
Davis on a deep handoff, but he's cut down by Whitaker and Wiley
Davis again tries the right side, picks up two. Bears looking stout against the run so far
Big rush by Constantine finds A.J. Allen on a slant from the right side. First down Weber
Quick toss left to Josh Davis, who slips trying to deke Taji Lowe. Third and 5
Josh Davis with a run, picks up about three… 8:35 left in the first quarter
Weber State ball at its own 35
Derek Deoul boots a punt to the WSU 25. 49 yard punt is a good one. Wildcats ball
Ferguson has Edwards open but throws high. UMaine will punt. Ferguson looks like he's conscious of the rush and is a little jittery
Jefferson goes around the left end and fights his way for 3 or 4 yards
Ferguson's check-down to Jefferson over the middle sails high. A little pressure, although the receiver was open
Jefferson picks up two short yards, but gets the first down at the 21
A quick out from Chris Ferguson to Earnest Edwards for 8 yards
Wildcats punt, it goes out of bounds at the UMaine 12. Black Bears take over
Big sack of Constantine by Kayon Whitaker. He now has 10 1/2 on the season
Only one senior on the offensive line for Weber State. Same with UMaine which has Cody Levy. Iosua Opeta is the Wildcats' left tackle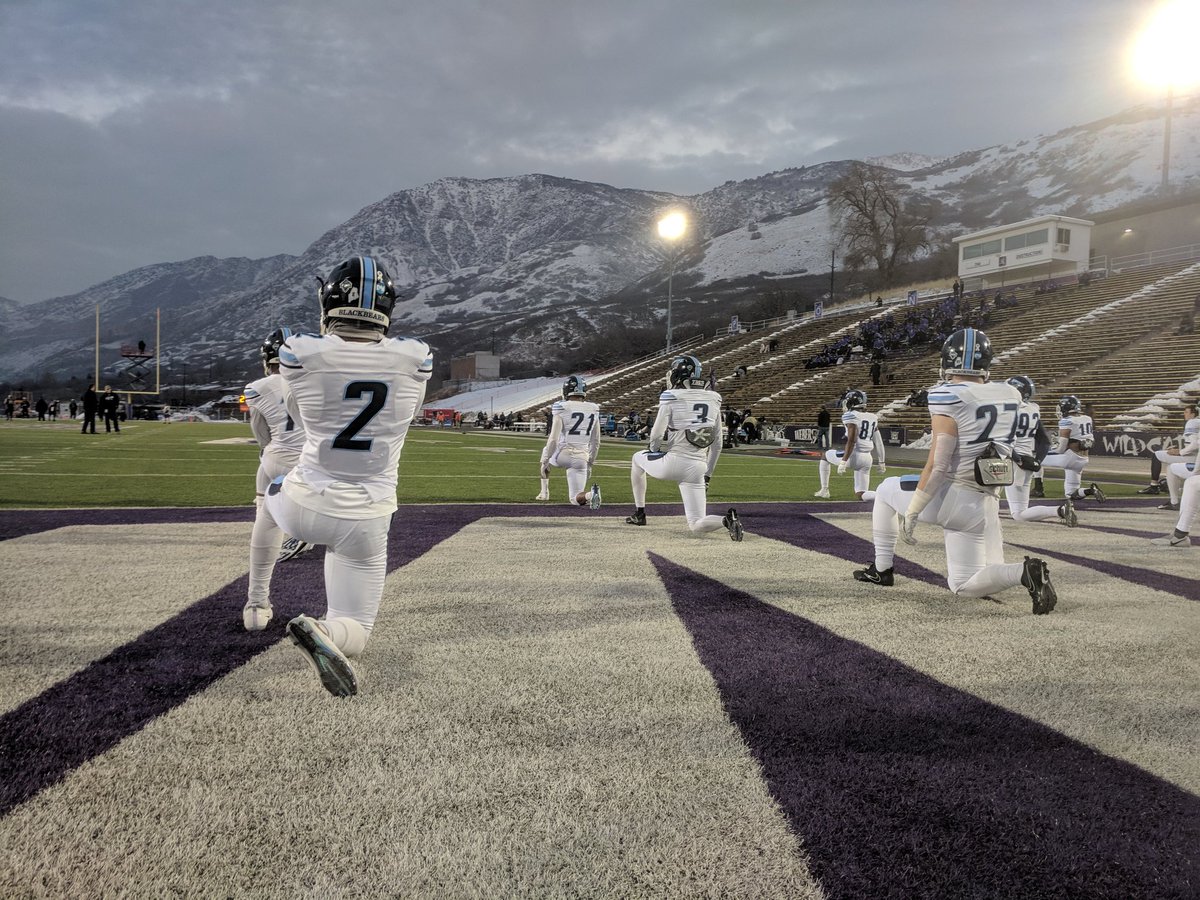 Weber State takes a timeout on third-and-10 from the UMaine 22. Only 3:06 gone in the contest
Bears with a good pass rush and Constantine throws incomplete. Jamehl Wiley with the pressure
Constantine throws long to the end zone. Second down
A quick screen to the right side to Darryl Denby goes 40 yards to the Umaine 22
Davis takes it off left tackle and picks up two for a first down Weber State
Constantine throws to the right side, but a yard short of a first down
Davis goes around left end, but is cut down quickly by Taji Lowe
The Wildcats come out throwing and pick up 13 yards on first down
UMaine neutralizes Shaheed, who is a threat to take it the distance. Weber State starts at its own 20
Black Bears win the toss and defer, will kick off to open the game
Weber State bowed out in the national quarterfinals last season at Harrisonburg, Va., against James Madison, one of UMaine's CAA opponents
Weber State, the No. 2 seed, is 10-2 this season. UMaine, seeded seventh, is 9-3
A great opportunity for UMaine's program to get some national exposure tonight on ESPN2. That's legit national TV as opposed to ESPN3, which is an internet streaming platform. You can't but this kind of publicity (not cheaply, anyway)
Senior wide receiver Micah Wright is fired up and ready to play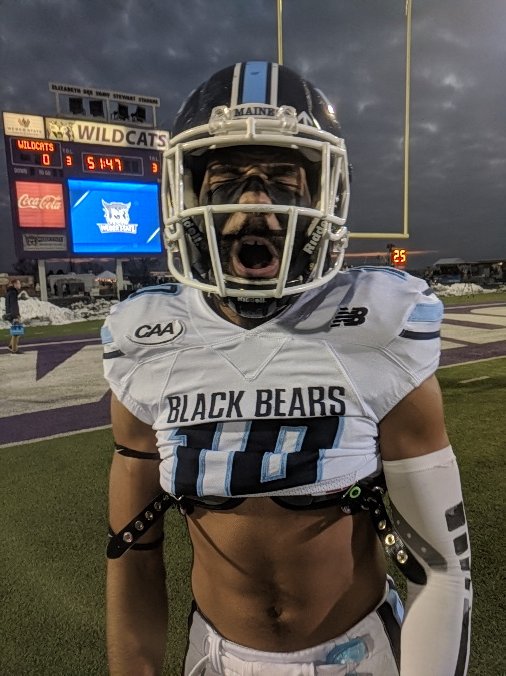 Three keys for UMaine in this game
1. Protect Chris Ferguson. If he takes even one hard hit, it could knock him out of the game with the bad shoulder. UMaine struggles offensively when he is not in the game.
2. Run the football. If the Black Bears can establish a solid ground attack, it will make their job throwing the ball much easier and help them be unpredictable. It also will enable them to control the clock.
3. Stop the run. Weber State has the top freshman running back in the country and is capable of dominating on the ground. If UMaine can put the Wildcats in third-and-long situations, they'll have more chances to be aggressive rushing the passer and potentially generating a few turnovers
Chris Ferguson warms up during pregame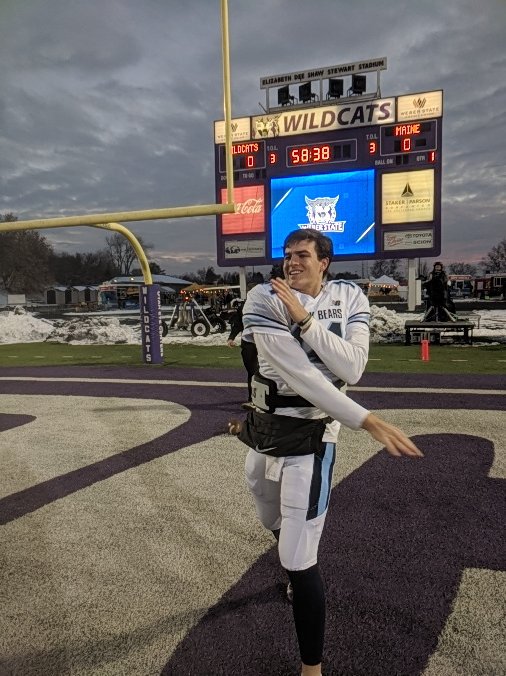 Weber State features 49 players from Utah and 23 from California
UMaine's offensive line is likely to be tested tonight in trying to protect quarterback Chris Ferguson's sore right shoulder. Weber State has registered 15 sacks in its last three games.
Note the snow beyond the back of the end zone in the background. These teams should both be up for the challenge, at least as far as the weather is concerned
All photos tonight are courtesy of Ronnie Gillis of UMaine athletics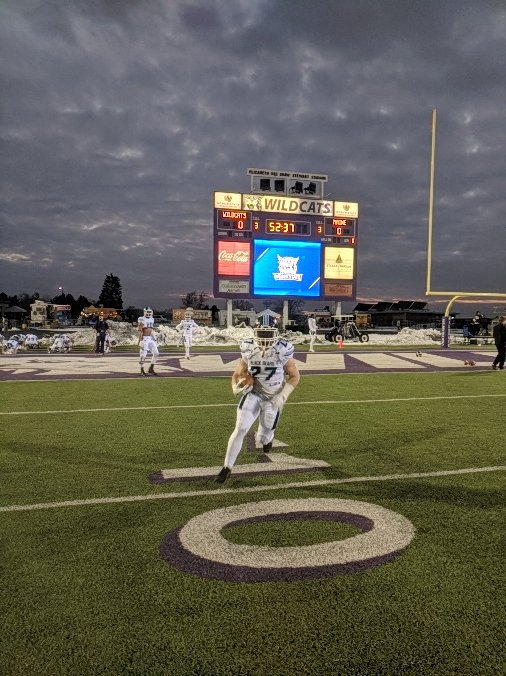 Weber State has been ranked in the top 10 nationally in both FCS polls 10 times in 13 weeks this fall
Weber State was among three Big Sky teams that went 10-2 overall and 7-1 in league play this season. The others, California Davis and Eastern Washington, also are in the FCS quarterfinals this weekend. UMaine is the lone remaining CAA representative
There has been a lot of talk about the Colonial Athletic Association being the best FCS conference in the country, but the Big Sky Conference probably begs to differ — at least this season
The Wildcats have won 19 of their last 22 home games at Stewart Stadium
Weber State, in the FCS playoffs for the third straight season, has won seven consecutive games
A half-hour before kickoff, it's 32 degrees with only a hint of a breeze at Stewart Stadium in Ogden, Utah.
---