Cricket South Africa's (CSA) official twitter was hacked on early Monday morning. At around 4:20 a.m IST, a couple of tweets were posted from CSA's official twitter handle @OfficialCSA which were trying to sell bitcoin lottery. "@OfficialCSA is partnering with @lunomoney for the fist South African Bitcoin Lottery. Simply send 0,01 BTC to 13My18T92DCzGdrtiCgRuS32T6rFLjnG56 and your BTC Wallet Address will be entered into a BTC Lottery for 20BTC (That's Over R1Mil). Lottery closes at 15 Jan @ 10PM," the hackers tweeted via CSA's twitter account. PAK vs SA 3rd Test Live Score Updates.
The hackers posted two more tweets regarding the bitcoin lottery. International Cricket Council (ICC), game's governing body, then informed its followers that CSA's twitter handle was compromised. "Please be aware that the @OfficialCSA Twitter account has been compromised. Our friends in South Africa are working hard to resolve the situation quickly. Please do not click on any links or engage with the account until such time as this is rectified."
CSA eventually got hold of their account and tweeted, "And… we're back! Apologies to all our Twitter followers who were affected by the hack overnight. We are back in control & ready to bring you what promises to be an even more eventful Day 4 of Test cricket. Thank you to our friends at the @ICC for your assistance this morning." PSL 2019: In a Video Message Lahore Qalandars Batsman AB de Villiers Confirms He Will Travel to Pakistan
Here's the screenshot of what hackers tweeted, it was later deleted by CSA.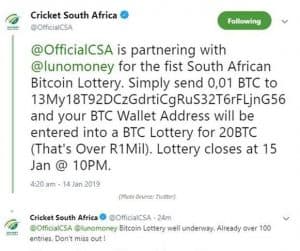 Here's ICC's tweet informing that CSA account was hacked.
And here's CSA's tweet once they regained the total access.
Meanwhile, South Africa are currently locked with Pakistan in the third and last Test. On day four of the Test, South Africa were inching towards yet another win and had scalped Pakistan's nine wickets, who were chasing improbable 381. South Africa have already pocketed the series 2-0 and now were eyeing a clean sweep.