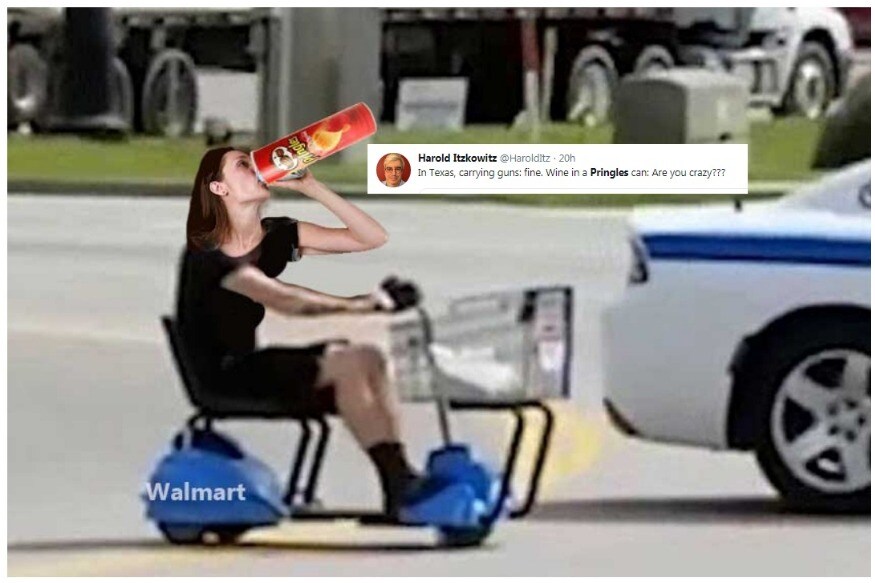 (Source: Twitter)
Supervising the daily comings and goings in a supermarket can be a hard day's work as authorities recently learnt at a Walmart outlet in Whichita Falls, US.
Store supervises found it strange when they saw a woman riding the electronic cart meant for specially-abled people in the store's parking lot at 9.30 am.
The woman also appeared to be drinking wine from a Pringles can.A suspicious lot, the authorities asked around and found hat the woman had been riding the card and sipping at whatever was inside the Pringles can from as early as 6 in the morning, USA Today reported.When they realised that the woman was drinking in the parking lot, the store authorities called the cops on the woman. When Texas police arrived at the spot, the woman was found eating at a nearby restaurant.
The cops told her that her little stunt had gotten her banned from Walmart worldwide and that she could not enter on outlet now without incurring a fine.
The incident set off a laugh riot on Twitter. Many were confused if the stunt sufficed as a punishable offense.