If it's been a decade or two since you last watched Muriel's Wedding, you might have memories of a feelgood flick that gave birth to some classic lines such as "you're terrible, Muriel". You might have forgotten what a complex creature P.J. Hogan's script really was, studded with moments of profound tragedy, disappointment and surprise. You might have forgotten that at times, Muriel really is terrible.
Last year's long anticipated world premiere of Muriel's Wedding the Musical certainly reminded Sydney audiences that Muriel's is much more than an ABBA-drenched hit of fuzzy nostalgia. The show earned four and five-star reviews along with more than a dozen awards. All of that was only act one for a show whose journey might end up as eventful as that of its central character.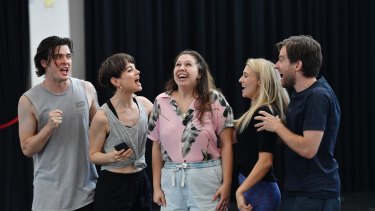 Muriel's Wedding the Musical arrives in Melbourne this week, but it's less an import of the Sydney show and more of a complete makeover. Much of the cast is new, scenes have been cut or reworked, songs replaced and sets expanded. In the rehearsal room one afternoon just a few weeks ago, Hogan himself was there making adjustments to lines while director Simon Phillips worked through scenes in microscopic detail (one half-hour stretch was devoted to just 25 seconds of stage-time).
Most musicals arrive in Australia fully formed, and it's up to the locals to hit the marks established in Broadway or the West End. Muriel's Wedding is that rarest of exceptions: a new Australian musical whose makers have the chance to set their own scene. Even more unusually, it features two virtually unknown performers in its leading roles.
At just 23, Natalie Abbott will be making her main stage debut as one of Australia's most beloved fictional characters. "There are some days I go in and I can't believe this is my life," she says. "I can't believe there's going to be actual people in this actual auditorium, there's going to be actual people watching me actually do this."
Phillips says that casting the role of Muriel called for more than just technical ability. "Because she behaves so terribly for half the show you're after someone with an innate charm who then has to have real comedy chops, the ability to clown, and then the ability to move you and take you to some areas of deep sadness in the second half. And a really great singer, there's a lot of vocal requirements.
"So it's not an easy one. But what we felt when Nat walked into the room is that she gets the Muriel thing. She's been that girl on some level and yet she's emerged with this absolutely incredible charm. Such a lovely nature and really funny, capable of real comedy."
Abbott grew up on the south coast of New South Wales, going to high school in Nowra before studying musical theatre at the Australian Institute of Music. "For me, it was that I don't love anything else as much as I love this. There's literally nothing that I love more or that I can do as well. This is the thing that I could do well. When it came to picking what I would do at university I really loved drama and acting and I really loved singing and music. Someone said there's a way you can combine the two called musical theatre."
Growing up, Muriel's Wedding was a film Abbott was aware of but had never actually watched. "I'd seen it on one of those shows where they're counting down the best lines of all time or something, and of course it was 'You're terrible, Muriel'." Her first real exposure was to the Sydney production. A good friend was playing one of the bridesmaids and so Abbott headed along. In fact, she bought one of the special tickets that allow audience members to sit on stage as part of the wedding ("so this isn't my first time doing Muriel's Wedding," she deadpans.)
What she saw that night was a revelation. "I remember being so surprised at how much I was enjoying myself. And in the next instant I was bawling my eyes out. As soon as I got home I thought 'I need to do that again' and watched the movie straight away."
Like many, Abbott's impression of Muriel's Wedding had been wrong. "It was a shock to me when I watched it. I thought it was all going to be OK and fine and happy rainbows but it's not. That's what makes it so good. It's so complex and such a rollercoaster of emotions. Muriel does bad things but you still love her and want her to succeed and catch a break even though she's treated people badly and is selfish at times and doesn't really see the bigger picture."
The emotional complexity of Hogan's story is partly due to its semi-autobiographical nature. For a long time he resisted Phillips' attempts to persuade him of a musical version's viability. "He knew the extent to which it was a tough story as well as a cheerful one," says the director. "What people bring away from the film is its generosity and its warm-heartedness, whereas if you dissect it it's full of mean people who do terrible things."
Phillips says that much of Hogan's reluctance was due to the tragedy that shakes the work's second act and leads to Muriel's epiphany, which he couldn't imagine "surviving or at least not destroying the musical genre." From the director's point of view, the more challenging elements of the source material were exactly what gave it such promise as a stage show. Muriel's Wedding the Musical could be far more than eye candy and some toe-tappers.
When Hogan finally agreed, he did two things. He claimed ownership, stating that if anyone was going to turn the thing into a musical, it would be him. And then he set about watching every musical he could get his hands on, mining the genre's strengths and opportunities.
The result is not simply a staged version of a much-loved film, but a reimagining. The musical is set today, with smartphones and social media woven into the fabric of the story. The form affords new ways of understanding Muriel herself, too. "The parts in the movie where Muriel would be alone with her thoughts listening to ABBA, these are the moments in the musical where Muriel can sing," says Abbott. "She's not the most articulate of people so she gets these moments in the musical where she's able to express herself through song."
Stefanie Jones is playing Muriel's best friend Rhonda, and for her the relationship between its female characters is what gives it a particularly contemporary edge. "There are so many strong female characters in the show, and more female characters than male characters, which is rare. Two female heroes and it's not a love story between a man and a woman but a love story between two female friends."
The character of Muriel's best friend is far from a supporting role, and indeed Rachel Griffiths' portrayal of the role in the original film is as memorable as Toni Colette's star-making turn as the title character. "I'm so excited that there's a character like Rhonda in a musical," says Jones. "Normally the characters in musicals are so cheerful and maybe their arcs aren't as in-depth as others we might see in movies and such, so I'm excited for a character like Rhonda to be on stage. She's such a strong feminist icon role, she's different, she embraces Muriel's differences too and sticks by her no matter what. And she has such a great wit about her and such a great attitude to it all that you fall in love with her."
Jones is from Brisbane, and one more thing she relishes about the role of Rhonda is that "I'm now able to access my Queensland bogan. Because she is in there and she's been suppressed for many years. As soon as I got to drama school my teacher knocked that shit right out of me, but now I get to go back there."
Casting Rhonda was as demanding a job as Muriel. Jones was appointed as understudy for the role before the actor originally cast withdrew for personal reasons, and Jones found herself propelled into the limelight. In a certain way her role within the production echoes that of Rhonda's – a secondary character who turns out to be pivotal.
"That's the other element of the show, this character who emerges halfway through act one and is both the kind of saviour of the leading lady and kicks the show onto a different level because of her daring and her honesty and fearlessness," says Phillips. "Stef is a performer who absolutely does bring a warmth and a likeableness with her on stage. And she can add to that the kind of brutality of Rhonda, the no-nonsense element of Rhonda. And she's got a kick-arse voice."
Muriel's Wedding the Musical opens March 23 at Her Majesty's Theatre.